HIGH SCHOOL SPORTS
Ashley Mangus had a hat trick for the Blue Waves girls in their 7-0 win.
The Columbus girls soccer team took care of business Thursday night, downing West Point 3-0.
STEENS -- Matthew Phillips spun around on one foot in disgust after his attempt at a behind-the-back pass sailed out of bounds near the Columbus Christian Academy bench.
Oak Hill Academy athletic director Phil Ferguson took it to the team.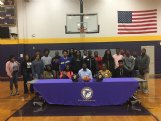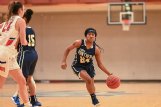 New Hope won 4-0 in the girls match and 7-0 in the boys match Wednesday.
The Falcons beat the Mustangs 74-15 to improve to 13-3 on the season.
Stevenson delivered an emphatic knockout blow to Kirk in Oak Hill's 55-45 win Tuesday -- and perhaps the new standout clip on his video highlight reel.
STARKVILLE -- Ethan Pulliam had a hat trick for Starkville High in a 4-0 win over South Panola on Monday in Starkville.
CALEDONIA -- Emotions ran high Nov. 16 in Amory when the Caledonia girls soccer team beat the Panthers for the first time in 13 years.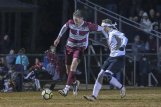 Columbus' Blake Burnett and DJ Jackson and Starkville's Amaya Ford will play in the All-Star Game.
Orr finished his senior season with 103 tackles and two interceptions, captaining the West Point defense as the Green Wave won their fourth straight state title.
Steele Altmyer led the Patriots in points with 11, and Eli Acker had a double-double with 10 points and 13 rebounds.
Lucious, one of quarterback Luke Altmyer's array of talented wide receivers, caught 42 passes for 471 yards and six touchdowns, finishing as the Yellow Jackets' No. 2 target.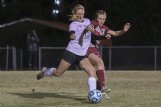 A new, fast-paced offensive system is paying dividends for the high-flying, high-scoring Trojans, and Friday's game was just the latest example.
Aniya Saddler had 31 points, 10 rebounds, seven steals and four assists for the Falcons girls in a 68-27 win.
Claire Benson and Jane Claire each scored for the Confederates in the 2-2 tie.