PHOTO GALLERY
Saving souls along Highway 82
Kingdom Vision International Church held the Glory on the Grounds revival Oct. 18 next to the construction site of its new facility along Highway 82. Bishop R.J. Matthews preached, along with a few special guests.
---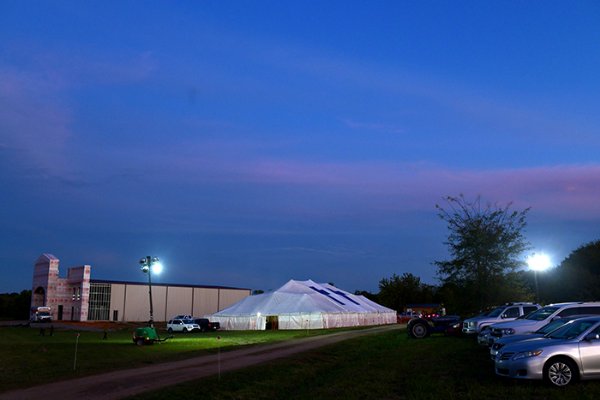 In 2011, Kingdom Vision International Church purchased a piece of land along Highway 82 near Columbus. Prior to the purchase, Bishop R.J. Matthews explained to his board of directors that he drove by the property as a teenager and felt called by god to build a church at that location. In 2013, conversations about working toward construction began to take shape. The Glory on the Grounds revival doubles as one of the churches fundraising efforts to help with construction costs.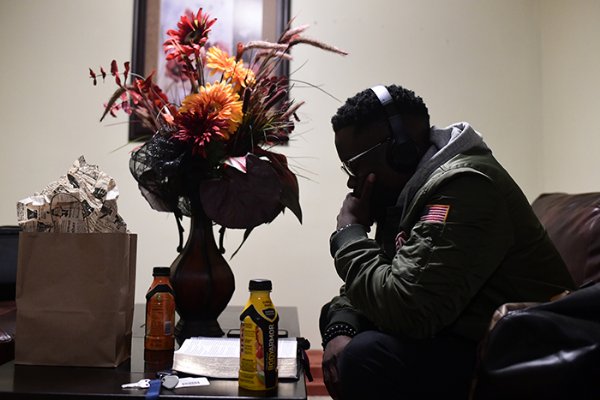 Bishop R.J. Matthews prepares to preach at the Glory on the Grounds revival Oct. 18 at the future site of Kingdom Vision International Church along Highway 82.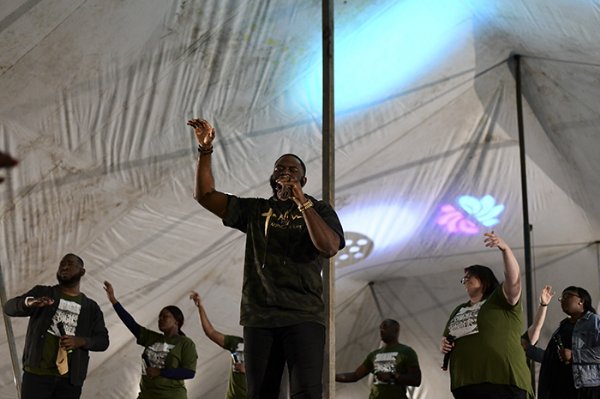 Tyson Cunningham, center, sings with the praise team prior to Matthews preaching. Cunningham has been helping with praise and worship for 14 years. "That feeling [of praise] is like none other. It's like an overwhelming sense of emotion and passion that god is in room and he is my only audience," Cunningham said. "God is — god is everything. He's my savior, he's my redeemer, he's my sustainer. He's the one that has ransomed and redeemed my life."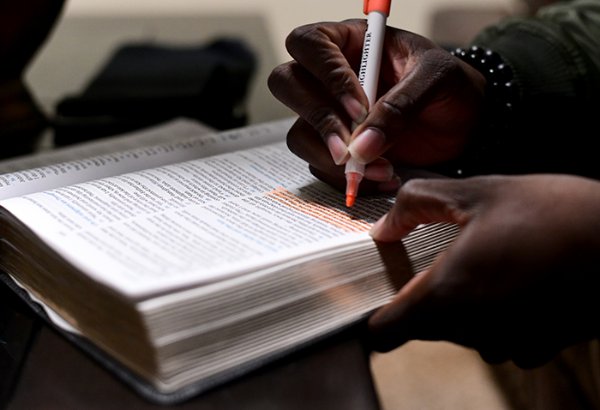 Bishop R.J. Matthews highlights a verse in his bible prior to preaching on the second night of Glory on the Grounds. Before preaching, Matthews takes a few minutes to pray and prepare himself.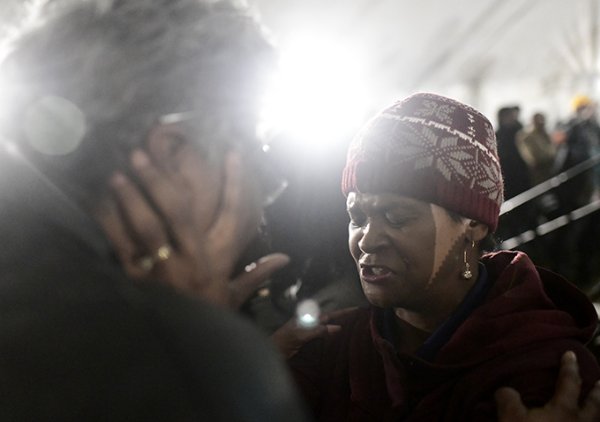 Gwendolyn Brooks, right, prayed over many people throughout the night. She has been in ministry for over 20 years, but points all of the work she's done for the church back to god. "I release it all. I depend on the Holy Spirit. It's all about him," Brooks said.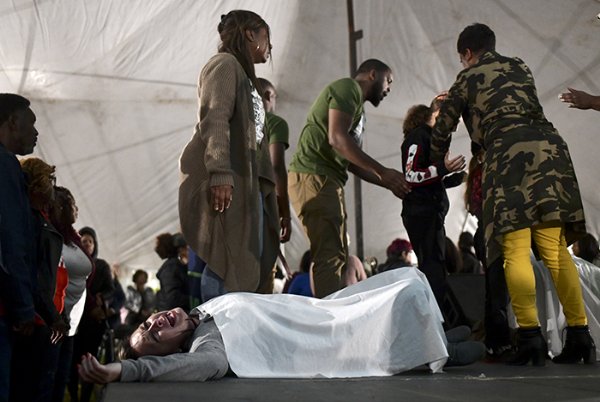 Audrey Ellis cries out as she is slain in the spirit. "I can't describe it," Ellis said. "It's a feeling that you get that god understands what your heart says without you saying anything."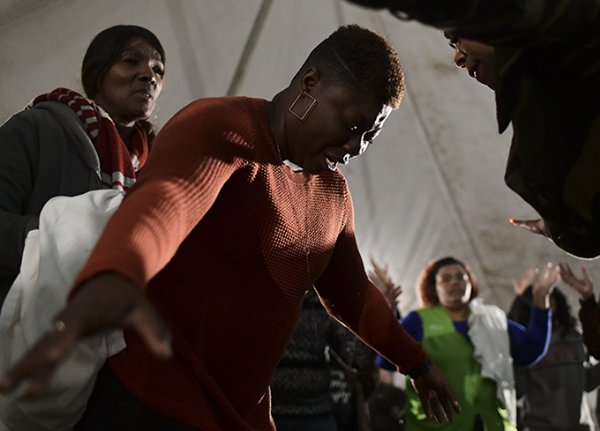 Alexis McMullen is overcome by the Holy Spirit as she stands near the front of the stage. "When I went up there I knew that the Lord had something for me and he used him to tell me, and everything he that he told me I already knew because he spoke it to me as a child. I know the calling God has on my life. I am a minister but there's more levels that God wants to take me. In doing so I need to Surender more to him. I need to give up everything, my desires, for the glory of God."
Kisha Gamble is slain in the spirit as Matthews preaches over the congregation. Gamble decided to come to the revival after hearing him preach at her church, Agape Worship Center.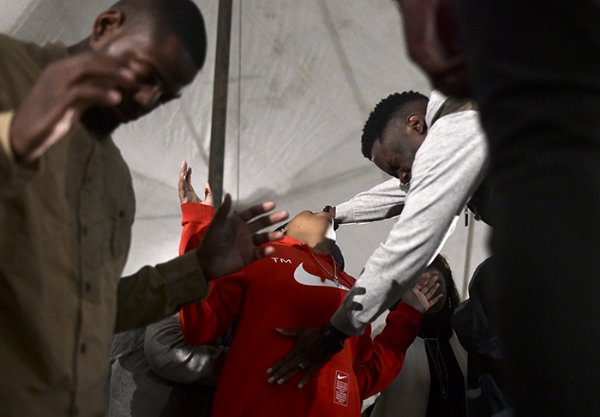 Bishop R.J. Matthews lays his hands on Kennedy Verdell, 17, during Kingdom Vision International Church's fall revival on Oct. 18 along Highway 82. Prior to laying his hands on Verdell, Matthews rubbed anointing oil on his palms. Typically, hands are laid on the head of an individual who is sick. Hands may also be laid on the area affected by the illness. Verdell was diagnosed with leukemia in 2018 and has been receiving treatment at St. Jude Children's Research Hospital. Her cancer is now in remission. "We believe in the power of laying on of hands," her mother Faye Verdell said. Kennedy Verdell is a senior at Columbus High School.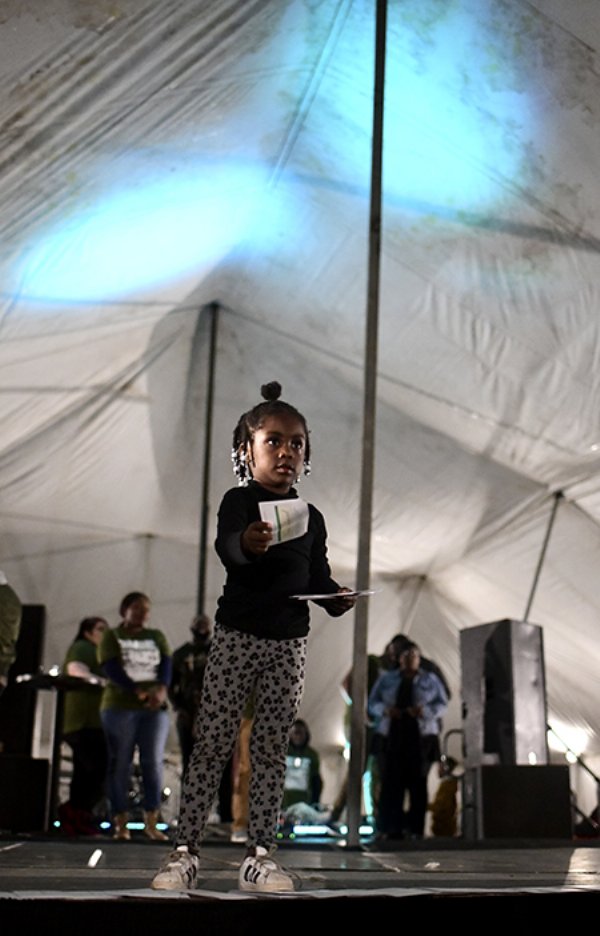 Faith Matthews, 4, passes out collection envelopes after her father, Bishop R.J. Matthews, finished preaching. Her father says she is constantly helping at the church's events. "If I'm praying and she's near, she gets right beside me," R.J. Matthews said.