NATIONAL COLUMNS
With much of corporate America vowing to withhold donations to Republican insurrectionists, party leaders have a choice to make. The Trump cult or the money? The money or the Trump cult?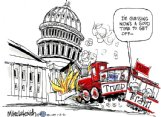 Donald Trump has stumbled and fallen, and the establishment is not going to let slip this last opportunity to stomp him and his movement to death.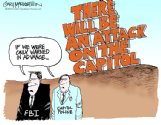 Hopes for a much calmer 2021 compared to 2020 were quickly dampened by the horrific attack on our nation's U.S. Capitol Building.
So, President Donald Trump has been booted off Twitter, as of now forever. Facebook also gave him the heave-ho. Apple and Google, meanwhile, have tossed the riot-friendly Parler app out of their stores.