OPINIONS
« previous Page 486 of 511 next »
Re: Sinead O'Connor's April 2, 2010, column "The Pope's Apology" (p. 5A). "During a frustrating argument with a Roman Catholic Cardinal, Napoleon Bonaparte supposedly burst out 'Your Eminence are you not aware that I have the power to destroy the Catholic Church?'"
On Saturday, my husband was sitting at a local tire store in Tennessee. While waiting a man and his wife came in off the interstate with tire problems. The man started a conversation about their trip to Columbus. My husband and I are both from Columbus so what were the odds?
It was amazing to get texts and calls in my present location of Northern Virginia about my mayor being arrested for assault. Yes I say my mayor because no matter where I am in this world Columbus is home, that is where my heart and soul reside.
Ah, our local leaders (past and present). Isn't it bad enough that we have to put up with the childish behavior and antics of Leroy Brooks and the criminal actions of Kamal Karriem and Jim Terry? Now it's Robert Smith and Kabir Karriem!
When we first heard about it, we thought it was an April Fools' joke. In one sense it was; in this case, the tricksters, happened to be Mayor Robert Smith and Ward 5 Councilman Kabir Karriem. The joke is on the people and the city of Columbus.
I think it was president Harry Truman who said "If you can't stand the heat—get out of the kitchen." It seems some of our elected officials continue to behave in an uncivilized manner and bring shame on our city. With the Internet being worldwide, I can just imagine how captains of industry are wondering about selecting our area for economic development about now.
In thanking the Mississippi Department of Transportation during a Wednesday press conference for recent road funding, Columbus Lowndes Development Link executive director Joe Higgins pointed out that rural Mississippi's road needs were once "farm-to-market" roads — something good enough for farmers to take their goods to town to sell.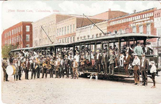 The health care bill that President Obama just signed into law is a monstrosity that raises taxes, increases government spending at times when we are already deep in debt, and mandates unprecedented government intrusion into our lives. The new law is nothing short of a complete government takeover of our health care system, which comprises nearly one sixth of our economy.
I just want to address some of the misconceptions about hospice care.
It's hard to hang on to the good ones. Monday's news of the departure of Mississippi State University Athletic Director Greg Byrne proved that axiom. Anyone who spent time with Byrne, or heard him speak, knew instantly that he is an up-and-comer destined for great things.
« previous Page 486 of 511 next »