OPINIONS
« previous Page 481 of 510 next »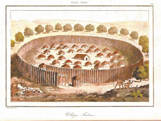 Here are three Internet-related things that every business needs to make sure they are doing right now.
The impact of the community park and recreational area located on Shady Lane will provide a safety and community-based location for the adults as well as the youth in the surrounding area.
Ethel et al. (The writer is referring to online bloggers. ed.) seem to think that Omnova exists just to give them a paycheck just because "I've been here 30 years and they can't cut my salary or benefits. Boo hoo.
As we remember this man of our time -- husband, father, and friend.
Last week it was reported that a Utah woman is suing the software company, Google, for $100,000 because she was hit by a car after following directions provided by the company's Google Maps service.
Kamal Karriem says that Columbus has a "gun problem." That is the typical short-sighted liberal Democrat spin on the problem.
There's only one race on Tuesday's Republican primary ballot -- but its outcome could be felt in north Mississippi for years to come.
To many, Memorial Day is just another day off from work, a time to have a picnic with family and friends and a time to enjoy a long weekend. What lies behind Memorial Day is another thing, though. The holiday is a time for us to commemorate the lives of those who died in military service, protecting our American freedom.
It would be hard to find someone better suited than Allegra Brigham to serve as interim president of Mississippi University for Women.
« previous Page 481 of 510 next »