OPINIONS
« previous Page 470 of 545 next »
Tomorrow the Columbus School Board will discuss their search for a superintendent, something they've been doing for more than a year now.
Letter to the Editor: Takes issue with columnist's assertions on race
Sunday is Earth Day, or as the United Nations deemed in 2009, International Mother Earth Day.
Of the courses we wish we had taken in high school and didn't, speech ranks high on the list.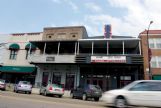 The city of Starkville is moving forward -- albeit slowly -- in its quest to have its downtown included in the National Register of Historic Places. Downtown Columbus has benefited from the designation -- the evidence is plain to see -- and so will Starkville.
Kudos to Jan Swoope. What a wonderful article Wednesday about local author Michael Smith's success in the literary world in New York, publication of his latest book and movie deal in the works.
Tuesday evening as Aberdeen businessman Jeff Doty was telling Caledonia aldermen he wouldn't be opening Cal-City Grocery because they denied him a variance to sell cold beer, the town was talking about one of its own who had been charged with selling it ... illegally.
If, on this past Saturday afternoon, you had hiked to the Riverwalk to enjoy what was a glorious spring day, you might have been at first surprised by the number of people who seemed to have the same idea.
In Monday's paper, there was an article by Jim Kuhnhenn of the AP pushing for higher taxes on millionaires.
Bill Fruth's visit last week sparked a lot of conversation, and that's usually a good thing. Columbus and Starkville seem to both be great in growing- but in two different ways. Perhaps we can each learn something from the other.
« previous Page 470 of 545 next »