OPINIONS
« previous Page 449 of 537 next »
Today marks the end of another presidential campaign, and while the race for the White House may be hotly contested, there is at least one point on which everyone can agree: This day could not have come soon enough.
I'm sitting here in the bright sunshine in Pompeii. At any minute, the Earth could shake, and my city would look no better, and possibly worse, than New York.
I am writing to correct some of the mis-perceptions of the BP settlement expressed in Slim Smith's article of Oct. 31.
Energetic in body but indolent in mind, Barack Obama in his frenetic campaigning for a second term is promising to replicate his first term, although simply apologizing would be appropriate.
This year, the GOP adopted -- again -- a platform under which no woman could ever legally have an abortion.
On Monday a public information and input meeting for the CAFB was held at the Trotter Convention Center and only two -- that's right, two -- citizens attended this presentation that was well prepared and presented.
Predictable as rain, the race card has surfaced just in time to stir up electoral passions, justify outcomes and explain away inconvenient truths.
We were greatly encouraged Monday when the Lowndes County Board of Supervisors agreed with the City of Columbus to address a mutual problem -- the facilities at the Columbus Soccer Complex.
Sandy. Don't get me wrong. Like most Americans, politics was the last thing on my mind as I waited to hear from my daughter, who lost power and cell service Monday night, along with millions of other Americans, and was trying to figure out what to do and where to go with a roommate and two kittens.
Let's raise a toast to the end of campaign season and all those pesky ads. What do you mean, "What ads?" Oh, that's right. We live in Mississippi, one of the 40 states where the contest for the presidency is, well, no contest at all.
Of Mitt Romney's many costume changes, the new Superman outfit portraying him as the would-be savior of the American auto industry wins for most imaginative.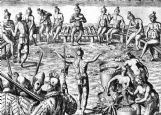 « previous Page 449 of 537 next »