OPINIONS
« previous Page 424 of 537 next »
The election of Chokwe Lumumba as the Democratic nominee for Jackson mayor has got everybody talking about race. That's not a good thing. If I'm not mistaken, white Republican northeast Jackson voted overwhelmingly for the blacker of the two candidates. So exactly how can this be about race?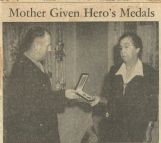 Often the photos are faded and bent, and though fewer and fewer remain who remember the names, their sacrifice is still ours to honor. They include the members of the "Greatest Generation," who gave their lives so we could be free. That whole generation is fast leaving us, which means it is up to us to pass on their legacy.
At Tuesday night's Starkville Board of Aldermen meeting, Ward 6 Alderman Roy A. Perkins expressed frustration with local media over coverage of the Starkville Parks Commission's recent budget woes. A recent audit found the SPC's maintenance budget of $180,000 had only $12.35 left in it, with six months left to go in the year.
Restaurants typically steer clear of publicly endorsing political candidates.
Is there anything that's not been said about the Columbus Convention and Visitors Bureau and its policy of funding festivals organized and orchestrated by elected officials and board members?
Remember when Coke bottles had the name of the town where it had been bottled stamped on the bottom? The other day while my grandson and I were knocking around in a vacant lot, he found a piece of one of these old bottles with "Columbus, Miss." on the bottom. When I told him it was an old bottle, he asked if it had been around when Elvis was alive.
You know a corner's been turned when someone in a legion of foreign sweatshop workers is given a face. That's happened in Bangladesh, home of hideous factory conditions -- as seen in the ruins of Rana Plaza, a former eight-story work warren. Death toll: over 1,100.
« previous Page 424 of 537 next »