OPINIONS
I support the appointment of Burl Cain as the new head of the Mississippi Department of Corrections. I know Cain comes with some baggage.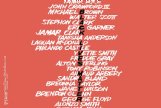 I come here not to condemn Amy Cooper, the white woman who called police and falsely claimed that an African American man named Christian Cooper was attacking her, but rather to praise Christian Cooper, who had done nothing more than ask her to leash her dog. The confrontation happened in New York's Central Park, where dogs are supposed to be kept on leashes.
"I know you're asking today, how long will it take?" Thus spake Martin Luther King Jr. at the end of the Selma to Montgomery voting rights march. He went on to assure his soul-weary people that the moment of their deliverance was just a little ways down the road.
Looting is stupid. Riots are not the "language of the unheard," a quote I have seen so many people post on social media over the past few days. With due respect to the late, great civil rights leader Martin Luther King Jr., my take is that violent riots and looting are more the fury of opportunists looking to score their personal "pound of flesh" against the "system," without any regard to a coherent, shared objective of reduci