NATIONAL
« previous Page 703 of 705 next »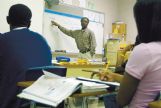 The No Child Left Behind Act was hailed as a solution to the nation's education woes when signed into law in 2002. The legislation was complex, but the desired outcome was simple: better teachers, better schools and better education, particularly for minorities and underprivileged children.
JEFFERSON, La. -- Only a petroleum industry representative showed up at a public hearing on proposed oil and gas lease sales in the Gulf of Mexico.
COLUMBIA, S.C. -- Rivals anxious to end Mitt Romney's two-state winning streak doubled down their criticism of him as unfeeling toward laid-off workers and out of step with conservative Christians as the presidential race headed to South Carolina Wednesday. Romney made a show of dominance by touting his campaign's $56 million in fundraising.
NEW ORLEANS -- The U.S. economy faces losing billions of dollars in trade unless the Army Corps of Engineers' budget for dredging the Mississippi River is increased to prevent the river from silting in, according to a new study commissioned by businesses that rely on the river.
NEW ORLEANS -- Federal scientists say a new chemistry-based analysis of the 2010 oil spill in the Gulf of Mexico closely matches official estimates released at the time of the spill.
NEW ORLEANS -- Nearly 20 months after its massive Gulf of Mexico oil spill -- and just as the nation focuses on New Orleans, host of the BCS title game -- BP is pushing a slick nationwide public relations campaign to persuade Americans that the Gulf region has recovered.
NEW ORLEANS -- Inside Louisiana's Civil War Museum, battle flags line the walls. Uniforms, swords and long-barreled guns fill museum cases beside homespun knapsacks, dented canteens and tiny framed pictures of wives that soldiers carried into battle.
WASHINGTON -- The No Child Left Behind education law was cast as a symbol of possibility, offering the promise of improved schools for the nation's poor and minority children and better prepared students in a competitive world.
TUSCALOOSA, Ala. -- Actor Charlie Sheen has donated $25,000 to help tornado relief in Alabama, making good on a promise to help survivors of the deadly twisters.
NEW ORLEANS -- A push to place levee breach sites from Hurricane Katrina on the National Register of Historic Places is cause for consternation at the federal agency that built the floodwalls that failed during the 2005 storm.
NEW YORK -- The largest trade show in the Americas must be a great place to show off new products, right? Wrong. The International Consumer Electronics Show is quickly becoming a launch pad for products that fall flat.
WASHINGTON -- President Barack Obama vowed Thursday the United States will remain the world's pre-eminent military power even as the Pentagon scales back spending, shrinks the Army and Marine Corps and pulls back from Europe.
LOS ANGELES -- Seven in 10 pet owners say they believe animal shelters should be allowed to euthanize animals only when they are too sick to be treated or too aggressive to be adopted.
FRANKFURT, Germany -- After a turbulent 2011, the 17 countries that use the euro will be quickly confronted in the new year with major hurdles to solving their government debt crisis, just as the eurozone economy is expected to sink back into recession.
PYONGYANG, North Korea -- North Korea warned the world Friday there would be no softening of its position toward South Korea's government after Kim Jong Il's death as Pyongyang strengthened his son and heir's authority with a new title: Great Leader.
PANAMA CITY BEACH, Fla. -- Sports towels and fleece blankets. A poker tournament. A $1 million Christmas display. A prom for senior citizens. BP gas card giveaways. A "most deserving mom" contest. And advertising, lots of advertising.
NEW ORLEANS -- Two men died and 61 other people were injured Thursday in a pre-dawn pileup involving about 40 cars, vans and other vehicles on a busy interstate that crosses New Orleans, closing the route for hours both ways, police said.
PYONGYANG, North Korea -- North Korea's next leader escorted his father's hearse in an elaborate state funeral on a bitter, snowy day Wednesday, bowing and saluting in front of tens of thousands of citizens who wailed and stamped their feet in grief for Kim Jong Il.
WASHINGTON -- The U.S. economy will grow faster in 2012 -- if it isn't knocked off track by upheavals in Europe, according to an Associated Press survey of leading economists.
« previous Page 703 of 705 next »