NATIONAL
13131 results « previous Page 580 of 657 next »
The Afghan Taliban are ready to free a U.S. soldier held captive since 2009 in exchange for five of their senior operatives imprisoned at Guantanamo Bay as a conciliatory gesture, a senior spokesman for the group said Thursday.
Hopes dimmed for talks aimed at ending the Afghan war when an angry President Hamid Karzai on Wednesday suspended security negotiations with the U.S. and scuttled a peace delegation to the Taliban, sending American officials scrambling to preserve the possibility of dialogue with the militants.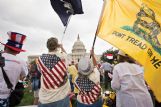 The immigration protesters advanced on the news conference, poking signs that read "Do Not Reward Criminals" and "No Amnesty!" over the heads of Republicans who had just finished speaking about finding a civilized tone in the year's most difficult debate.
Supporters of a far-reaching immigration bill in the Senate see fresh momentum from a report by the Congressional Budget Office that says the measure would boost the economy and reduce federal deficits by billions of dollars.
A woman told authorities she was held captive for more than a year by three people who forced her to do housework, raided her bank account and menaced her with snakes and pit bulls.
There's no guarantee that President Barack Obama's health care law will launch smoothly and on time, congressional investigators say in the first in-depth independent look at its progress.
The U.S. foiled a plot to bomb the New York Stock Exchange because of the sweeping surveillance programs at the heart of a debate over national security and personal privacy, officials said Tuesday at a rare open hearing on intelligence led by lawmakers sympathetic to the spying.
Chrysler abruptly agreed to recall 2.7 million older model Jeeps Tuesday, reversing a defiant stance and avoiding a possible public relations nightmare over fuel tanks that can rupture and cause fires in rear-end collisions.
Military leaders are ready to begin tearing down the remaining walls that have prevented women from holding thousands of combat and special operations jobs near the front lines. Under details of the plans obtained by The Associated Press, women could start training as Army Rangers by mid-2015 and as Navy SEALs a year later.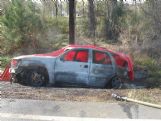 In one of the biggest-ever showdowns between an automaker and the government, Chrysler on Tuesday is expected to file papers explaining its refusal to recall 2.7 million older Jeep SUVs that are at risk of catching fire in rear-end collisions.
« previous Page 580 of 657 next »