NATIONAL
12787 results « previous Page 547 of 640 next »
Former Rep. Jesse Jackson Jr. was sentenced to 2 ½ years in prison Wednesday for illegally spending $750,000 in campaign funds on personal items, the judge scolding the son of the famed civil rights leader for using the money as a "piggy bank" and sentencing his wife to a year as well.
A UPS cargo plane crashed Wednesday morning in an open field just outside an airport in Birmingham, Ala.
A man who took hostages at a bank in rural Louisiana shot the two remaining hostages, killing one of them, before being shot and killed by police, authorities said.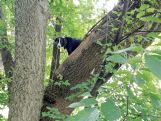 The biggest study of its kind suggests autism might be linked with inducing and speeding up labor, preliminary findings that need investigating since labor is induced in increasing numbers of U.S. women, the authors and other autism experts say.
« previous Page 547 of 640 next »