NATIONAL
All through downtown Washington, the primary sound for several blocks was the beeping of forklifts unloading more fencing.
President-elect Joe Biden will no longer be taking an Amtrak train to Washington for his inauguration because of security concerns, a person briefed on the decision told The Associated Press on Wednesday.
A coronavirus action plan being unveiled by President-elect Joe Biden centers on a mass vaccination campaign and closer coordination among all levels of government.
Potential threats and leads are pouring in to law enforcement agencies nationwide after the insurrection at the U.S. Capitol. The challenge is now figuring out what's real and what's just noise.
Seattle-based Amazon.com, Inc. has asked a federal judge to deny a request to reinstate the cloud-service account for conservative social media network Parler, claiming Parler shrugged off police violence content on its site before and after the insurrection at the U.S. Capitol.
The U.S. Air Force announced Wednesday that the new U.S. Space Command headquarters will be in Huntsville, Alabama, after the state was selected over five others competing for the project, including Colorado, where Space Command is provisionally located.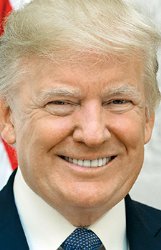 President Donald Trump was impeached by the U.S. House for a historic second time, charged with "incitement of insurrection" over the deadly mob siege of the U.S. Capitol in a swift and stunning collapse of his final days in office.
President Donald Trump is on the verge of being impeached for a second time, the House planning the unprecedented vote one week after he encouraged a mob of loyalists to "fight like hell" against election results and the U.S. Capitol became the target of a deadly siege.
The PGA canceled its tournament at his golf course. Banks say they won't lend to him anymore. New York City is looking to end his contract to operate the Central Park skating rink.
The FBI warned law enforcement agencies ahead of last week's breach of the U.S. Capitol about the potential for extremist-driven violence, U.S. officials said, contradicting earlier statements that they were caught off guard by the assault by supporters of President Donald Trump.
As the U.S. goes through the most lethal phase of the coronavirus outbreak yet, governors and local officials in hard-hit parts of the country are showing little willingness to impose any new restrictions on businesses to stop the spread.
Facing a slower-than-hoped coronavirus vaccine rollout, the Trump administration abruptly shifted gears Tuesday to speed the delivery of shots to more people. The move came as cases and deaths surged to alarming new highs.
Anyone flying to the U.S. will soon need to show proof of a negative test for COVID-19, health officials announced Tuesday.
As the world adjusts to a Twitter without @realdonaldtrump, the next big question is: "Now what?"
A former Minneapolis police officer who held his knee to George Floyd's neck for minutes will be tried separately from the three other former officers accused in his death, according to an order filed Tuesday that cites limited courtroom space due to COVID-19 restrictions.
The Trump administration missed a deadline for giving Congress numbers used for divvying up congressional seats among the states, and government attorneys said Monday that the figures would not be ready until early March, almost a month later than previously disclosed.
Sheldon Adelson, who rose from a modest start as the son of an immigrant taxi driver to become a billionaire Republican powerbroker with a casino empire and influence on international politics, has died.
The FBI is warning of plans for armed protests at all 50 state capitals and in Washington, D.C., in the days leading up to President-elect Joe Biden's inauguration, stoking fears of more bloodshed after last week's deadly siege at the U.S. Capitol.
President-elect Joe Biden received his second dose of the coronavirus vaccine on Monday, three weeks after getting his first one with television cameras rolling in an attempt to reassure the American public that the inoculations are safe.