STATE
5297 results Page 1 of 265 next »
Mississippi is enacting a wide range of laws based on bills passed during this year's legislative session, including some that separately regulate wine, school buses and scooters.
Procrastinators are facing a deadline to file their 2019 Mississippi income tax returns.
A Mississippi businessman faces up to 20 years in prison and $500,000 in fines after pleading guilty to his part in a $510 million health care fraud scheme involving high-priced prescription pain cream.
Google's first U.S. operations center is coming to northwest Mississippi.
Mississippi's top public health official has ordered a temporary halt to all elective surgeries to try to save hospital bed space as the state sees a rapid expansion in cases of the new coronavirus.
A Mississippi mayor and his wife have been indicted on federal fraud charges after prosecutors said the couple raised money for mental health programs in schools but spent it on themselves for expenses that included car payments and the purchase of a pet dog.
Mississippi Gov. Tate Reeves' request for help following severe weather in April was approved Friday by President Donald J. Trump.
Mississippi Gov. Tate Reeves has vetoed most of the state education budget for the new fiscal year because it would have changed a bonus pay plan for some teachers.
At least 26 legislators and 10 others who work at Mississippi's Capitol have tested positive for the coronavirus, a public health official said Wednesday, as the governor implored residents to take precautions amid a rapid rise in confirmed cases statewide.
At least four Mississippi counties have decided recently to move Confederate monuments away from courthouses as widespread protests over racial injustice are renewing debate over symbols that many consider divisive.
A company partly owned by Mississippi Gov. Tate Reeves and a business where his wife works were recipients of hundreds of thousands of dollars from a federal rescue package meant to keep small businesses afloat in the coronavirus pandemic, according to data released Monday by the Treasury Department.
A Mississippi judge has found Jackson State University's former president guilty of misdemeanor charges related to a prostitution sting.
At least eight Mississippi lawmakers have tested positive for the coronavirus after working several weeks in a Capitol where many people stood or sat close together and did not wear masks.
A Mississippi city named after former U.S. President Andrew Jackson will remove a downtown statue of him and put it in a less prominent spot.
Officials in a Mississippi county unanimously voted to keep a Confederate monument where it stands, saying moving the statue wouldn't fix racial tensions.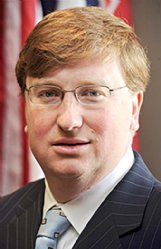 Mississippi's Republican governor said Monday he is isolating himself after coming into contact with a member of the state House of Representatives who tested positive for the coronavirus. In a tweet Monday, Gov. Tate Reeves said he received a virus test and is awaiting results.
A man has been arrested on a murder charge in connection with a recent shooting at an Alabama shopping mall that left an 8-year-old boy dead and three other people injured, authorities said Sunday.
A university in Mississippi removed the name of a former president from a residence hall after a petition called the man a segregationist.
Law enforcement officials are looking for a man who went missing Sunday morning from the Mississippi State Penitentiary at Parchman.