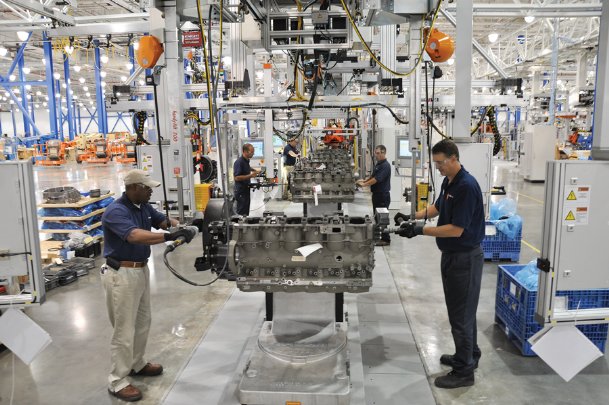 Paccar workers assemble engines at the company's Lowndes County factory in this Dispatch file photo. The company announced Tuesday it would cease operations worldwide in response to the COVID-19 pandemic, which will affect 600-plus employees locally. Photo by: Dispatch file photo
Paccar Engine Company became the first local industry to close operations in response to the COVID-19 virus.
In a "business update" released through the company's Bellvue, Washington, headquarters, the company announced its would close all worldwide truck/engine production until April 6. The shutdown went into effect Tuesday morning.
The shutdown will temporarily cease production at the engine manufacturer's Lowndes County plant, where 600-plus workers are employed.
In the company's announcement, Paccar CEO Preston Feight assured the company was in good financial order.
"Paccar's excellent balance sheet, experienced leadership team and outstanding employees will contribute to the company successfully managing through this difficult period," Feight said.
The announcement did not include information on the employment status or compensation for its workers.
Asked via email about the impact of the shutdown on employees, Paccar spokesman Tim Olsen replied, "I have no additional information at this time."
While The Dispatch has confirmed that there have yet to be layoffs or production changes at Aurora Flight Sciences or Steel Dynamics, other area industries did not respond to calls about their operations.