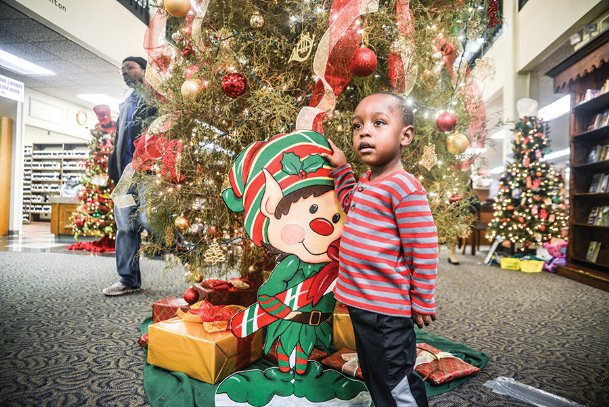 Jalyn Butler, 3, admires the Christmas decorations at the Columbus-Lowndes Public Library during the Annual Festival of Trees in this 2014 Dispatch file photo. Jalyn is the son of Cassandra Butler, of Columbus. Photo by: Dispatch file photo
A "winter wonderland" of festively adorned trees will again fill the Columbus-Lowndes Public Library at 314 Seventh St. N. with holiday spirit in December. The "forest" will feature Christmas trees decorated by local businesses and organizations in the Golden Triangle area.
Beginning Dec. 7, members of the public are invited to begin voting for their favorite tree. Voting continues through noon Dec. 11.
An open house from 4-6 p.m. Thursday, Dec. 12 at the library will showcase not only the trees, but also include live music, crafts and refreshments. Very special guests Santa and Miz Claus will be on hand as well to greet visitors.
For more information about the library's Festival of Trees, email event coordinators Brenda Durrett at [email protected], or Mona Vance-Ali at [email protected] Or contact the library at 662-329-5300.